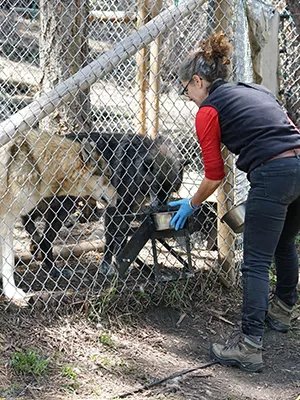 Due to moving to our new location, we are holding off on new volunteers at this time.  But visit back, we will need you!
W.O.L.F. relies heavily on volunteer help for running day-to-day life at the Sanctuary and therefore we need volunteers 365 days a year. There are wide variety of volunteer tasks necessary for the smooth operation of the organization. These tasks vary from administrative assignments and maintenance projects to caring for the animals at the Sanctuary and in rescue situations.
Becoming a Volunteer
To join the volunteer team you need to submit a volunteer application, attend an offsite orientation (held once a month), train at the Sanctuary and pay annual W.O.L.F. volunteer membership dues. To sign up for an orientation,complete the Volunteer Application and the volunteer coordinator will inform you of orientation availabilities.  You can also check our Workgroup and Internship opportunities.
Volunteer Requirements
W.O.L.F. maintains a high level of standards and accountability for volunteers. To be accepted, you must be able to comply with the following requirements.
Must be 18 or older
Must have received a COVID vaccination and provide proof of vaccination
Must be able to commit a minimum of two work sessions per month to the Sanctuary (min. 12 hours)
Must be willing to assist with public events
Must respect the animals in W.O.L.F.'s care
Must be willing to participate in all aspects of Sanctuary work
Must be able and willing to work outside in varying weather conditions in challenging terrain
The Work
Volunteering at the Sanctuary is often very labor intensive and volunteers will be asked to complete a wide range of activities based on the needs of any given day. It is recommended that volunteers come prepared to work outdoors in a mountainous environment in all manner of weather conditions.
Standards
Volunteers are responsible for maintaining the highest standards of conduct at all times when involved in activities associated with W.O.L.F. Volunteers may assist with public relations and community activities as prescribed by W.O.L.F. staff.
Facility Maintenance
Volunteers provide most maintenance duties at W.O.L.F. including cleaning enclosures and grounds, making repairs as needed, building enclosures and structures as needed, and maintaining the meat preparation area.
Animal Handling
Volunteers may handle wolves and wolf dogs only after they have successfully completed the prescribed training program.
Animal Health
Volunteers will at all times follow the prescribed rehabilitation procedures specified by W.O.L.F. staff and the program veterinarian.
Outreach Programs
Volunteers may be asked to assist in fundraising activities, educational programs, and/or tabling events under the direction of W.O.L.F. staff.
Property
No animals, supplies, equipment, etc. may be removed from the facility without permission from the directors or staff.
Commitment
Volunteers must work a minimum of two work sessions per month and must schedule their times in advance in order to be considered an active volunteer in good standing. A typical work session at the Sanctuary runs about 6 hours.
Non-Smoking Facility
Volunteers and work groups may not smoke, vape or chew on W.O.L.F. property.
Membership
Volunteers must take the training course and pay annual membership dues to be considered active members in good standing and be allowed access to the facility.
Vaccinations
W.O.L.F. recommends that volunteers maintain a current tetanus vaccination and receive the pre-exposure rabies vaccination series. Volunteers must be vaccinated for COVID-19 – Click here for more information.
Controlled Substances
The use or possession of illegal or controlled substances on W.O.L.F. property is strictly forbidden. This includes all drugs and alcohol, including marijuana. Use of any of these substances will result immediate termination of the volunteer.
Termination
Termination from the program may result if a volunteer fails to adhere to any of the policies of the W.O.L.F. program.