Shelley Coldiron
Executive Director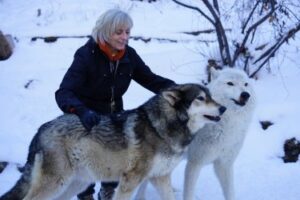 Shelley Coldiron has been the Executive Director of W.O.L.F. Sanctuary since July 2012. She has served on the W.O.L.F. Board of Directors since late 2011. Dr. Coldiron has B.S. and Master's degrees from Wright State University. She received her Ph.D. in 1993 in Biomedical Engineering from Iowa State University where she also taught analytical chemistry. She has been the Founding CEO and CTO of several biotech companies and is an expert in developing commercial applications for university-developed technologies.   She has published numerous scientific articles and holds several patents in chemistry, devices and nanotechnology.
For over 30 years she Shelley been intimately involved with the rescue, sanctuary and rehabilitation of both shelter and wildlife animals namely canids, felines and birds of prey. Shelley has been involved with W.O.L.F. shortly after her move to Colorado in 2010. If she finds any down time she can be spotted enjoying the company of her four shelter dogs, bouldering and rock climbing.
Laura Davis
Senior Operations Director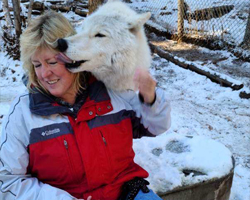 ​Laura is an innovative executive with extensive operational, program development, sustainability, and compliance experience who has worked across multiple industry sectors. One of her greatest successes includes being appointed by four different governors to serve five terms on the CO State Board of Health, for which she served as president for four. Laura is passionate about animal welfare and enjoys spending quality time with the four-legged residents at W.O.L.F. Sanctuary. Most often you can find her working diligently as she enhances W.O.L.F.'s Red Feather property in preparation to bring the wolves and wolf dogs to their new forever home.
Kendra Kellogg
Development Manager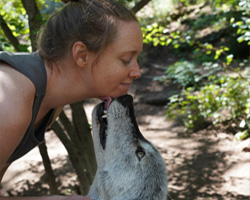 Kendra began volunteering at W.O.L.F. in the fall of 2018, shortly after completing her PhD in astrophysics, and became a staff member a few months later in January 2019. She knew that, as fascinating as astrophysics is, her heart lay with helping animals – in the wild or in captivity. She plans to make a new career in the wildlife field and what better way to start than with W.O.L.F.! She enjoys the multifaceted nature of working with W.O.L.F. and getting to know all the quirky personalities of the residents. In her time off, she enjoys everything outdoors and traveling to new and exciting places.
Penelopy Myers
Assistance Animal Care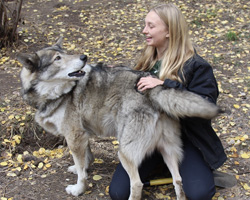 I am an animal care and enrichment assistant at the W.O.L.F. sanctuary, I stated in early September. Before W.O.L.F. I trained dogs full time, my concentrations are aggressive dogs, puppies, and show dogs. I have been training and showing dogs since I was 10 years old so naturally the next step for me was to work with wolves and wolf dogs.I initially went to school for English Education but soon realized my love for animals and am changing my track to veterinary technology this winter.  I love working here and forming bonds with the animals everyday, I also love that I learn something new every time I am up here.
Hannah Heath
Animal Care and Enrichment Assistant: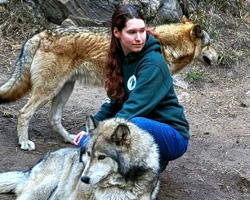 Hannah has been at W.O.L.F. for almost 3 and a half years. She started as an intern in the summer of 2019, fell in love with the animals, and kept volunteering until she was offered a job as an Animal Care Assistant.  She also helps with the rescue side of things, working to find homes and sanctuaries for animals across the country. She graduated from CSU in 2020 with a creative writing degree; in fact, that's part of what drew her to the Sanctuary! She wanted to write her thesis from uncommon perspectives, one of which being an animal perspective. She did end up writing part of her thesis from the mind of Denali, one of our lovely past residents. What she loves about the sanctuary is the work we do and the lives we save.  She sees so many animals that need a good home and while we can't save them all, the victories we do have are all the more celebrated.
Keith Laposh
Rescue Coordinator & Volunteer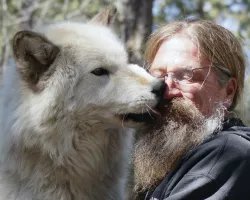 Keith has been an avid supporter and volunteer for W.O.L.F. Sanctuary over the years. He works diligently to assist in our rescue missions, as well as educational events, and much more! Keith is the main point of contact for our nationwide rescue services and has a background in phenotyping wolves/wolf dogs and understanding canine behavior. He is a graduate of the National Animal Control Humane Officer academy through the National Animal Care and Control Association (NACA) and Colorado State University.
Teva Stone, DVM
Veterinarian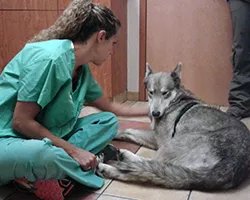 Dr. Teva Stone was on the W.O.L.F. Board of Directors for 2016-2018. She is a 2009 graduate of Colorado State University School of Veterinary Medicine. She has a special interest and love for surgery. She is employed by the Wellington Veterinary Hospital in Wellington, CO.
Dr. Stone often treats many of the animals at W.O.L.F. She has done routine medical examinations and assisted Dr. Bright on complex surgeries for W.O.L.F. animals. She has also performed annual field examinations at the Sanctuary. In a recent W.O.L.F. Magazine article Dr. Stone expressed her feelings about W.O.L.F.: "I think W.O.L.F. is extraordinary. The things they do for these animals, the sacrifices they make – I admire each and every one of the people involved. Their dedication to this cause is inspiring and it makes me even more excited to be a part of this team."
Diego Jenab
Animal Care and Enrichment Assistant: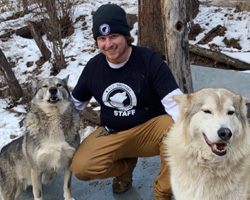 Diego started volunteering with W.O.L.F. as an intern in October 2019 and was brought on to staff as an Animal Care and Enrichment assistant in October 2022. He moved to Colorado in 2018 for school and is finishing up his degree in Fish, Wildlife, and Conservation biology with a minor in global environmental sustainability at Colorado State University. His hobbies include mountain biking, skiing, and taking care of all his pet reptiles and amphibians. In his 4 years of being involved with W.O.L.F., he has thoroughly enjoyed working with others involved in our community. All of the staff and hard-working volunteers are kind and respectful of our wolves and wolfdogs. He has greatly enjoyed becoming part of the staff and having a larger role in animal care, and all of the hands-on experience with our animals.
Tony Kear
Facilities and Maintenance Assistance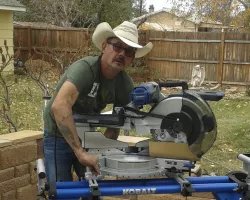 Meet Tony, W.O.L.F.'s seasonal maintenance assistant. Tony joined the W.O.L.F. team this winter during the off-season of his regular business—Tony's Handyman and Landscaping Service, LLC. He is especially fond of the different wolf dog personalities at the sanctuary, especially Ashima and Topaz, two beautiful animals that can coexist with humans and nature.
Events Coordinator & Volunteer
Rescue Assistant & Volunteer
Rescue Assistant & Volunteer
Kindful Manager & Volunteer
Receipts Manager, Events Assistant, & Volunteer