Shelley Coldiron
Executive Director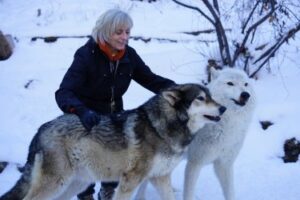 Shelley Coldiron has been the Executive Director of W.O.L.F. Sanctuary since July 2012. She has served on the W.O.L.F. Board of Directors since late 2011. Dr. Coldiron has B.S. and Master's degrees from Wright State University. She received her Ph.D. in 1993 in Biomedical Engineering from Iowa State University where she also taught analytical chemistry. She has been the Founding CEO and CTO of several biotech companies and is an expert in developing commercial applications for university-developed technologies.   She has published numerous scientific articles and holds several patents in chemistry, devices and nanotechnology.
For over 30 years she Shelley been intimately involved with the rescue, sanctuary and rehabilitation of both shelter and wildlife animals namely canids, felines and birds of prey. Shelley has been involved with W.O.L.F. shortly after her move to Colorado in 2010. If she finds any down time she can be spotted enjoying the company of her four shelter dogs, bouldering and rock climbing.
Laura Davis
Senior Operations Director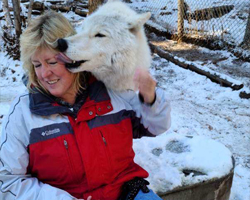 ​Laura is an innovative executive with extensive operational, program development, sustainability, and compliance experience who has worked across multiple industry sectors. One of her greatest successes includes being appointed by four different governors to serve five terms on the CO State Board of Health, for which she served as president for four. Laura is passionate about animal welfare and enjoys spending quality time with the four-legged residents at W.O.L.F. Sanctuary. Most often you can find her working diligently as she enhances W.O.L.F.'s Red Feather property in preparation to bring the wolves and wolf dogs to their new forever home.
Keith Laposh
Rescue Coordinator & Volunteer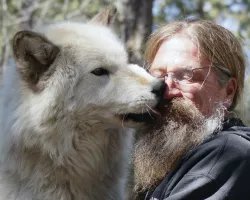 Keith has been an avid supporter and volunteer for W.O.L.F. Sanctuary over the years. He works diligently to assist in our rescue missions, as well as educational events, and much more! Keith is the main point of contact for our nationwide rescue services and has a background in phenotyping wolves/wolf dogs and understanding canine behavior. He is a graduate of the National Animal Control Humane Officer academy through the National Animal Care and Control Association (NACA) and Colorado State University.
Halley Buhlig
Animal Care and Enrichment Assistant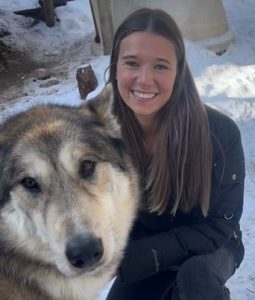 Halley started working at W.O.L.F. in February of 2023. She has a passion for helping all animals in need. She started volunteering and taking care of animals in high school, at the Houston SPCA and the Wildlife Center of Texas. She moved to Colorado in 2018 to start her degree and pursue her passion for wildlife. Halley graduated from CSU in 2022 with a bachelors in Fish, Wildlife, and Conservation Biology. Throughout her courses she found that what she really cared about was giving back to the animals that were negatively affected by humans. That is what led Halley here to W.O.L.F She wants to further her career and give the wolf dogs the best possible life at the sanctuary.
Bri Hinchliffe
Animal Care and Enrichment Assistant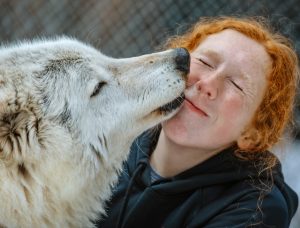 Bri started volunteering at W.O.L.F. in August of 2022, and instantly fell in love with the animals. She was brought on as staff in March of 2023, and she is graduating from Colorado State University this summer with a bachelors in zoology. Bri has always wanted to work with animals, specifically in behavior and enrichment, so W.O.L.F. is the perfect fit! She loves coming up to the sanctuary and getting to gain the trust of the animals each time. She also loves getting to see all of their unique personalities come through.
Kassandra Alonso
Animal Care and Enrichment Assistant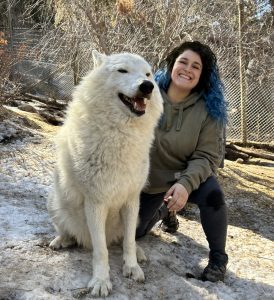 Kassandra graduated from Puerto Rico's Turabo University in 2016 with her Bachelor of Science with a major in environmental and evolutionary Biology. While living in Puerto Rico, she volunteered on projects with endemic animal and plant species for the Puerto Rico Conservation Trust. Hurricane Maria threw a curveball in her plans and she was offered to be relocated to Colorado and jumped head first into a new adventure. She became a volunteer at the Denver Zoo for 2 years working in the behavior and nutrition department for primates. During that time she worked full-time as a veterinary assistant at Aurora Animal Hospital. She currently is pursuing a Doctorate in Veterinary Medicine at Colorado State University. Kassandra aspires to specialize in wildlife and conservation medicine. She found her home at W.O.L.F. being given the opportunity to work with amazing animals in the field she is passionate about.
Tony Kear
Facilities and Maintenance Assistance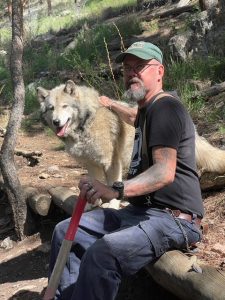 Meet Tony, W.O.L.F.'s seasonal maintenance assistant. Tony joined the W.O.L.F. team this winter during the off-season of his regular business—Tony's Handyman and Landscaping Service, LLC. He is especially fond of the different wolf dog personalities at the sanctuary, especially Ashima and Topaz, two beautiful animals that can coexist with humans and nature.
Teva Stone, DVM
Veterinarian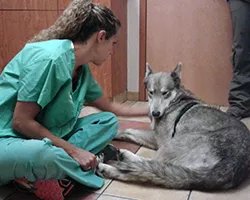 Dr. Teva Stone was on the W.O.L.F. Board of Directors for 2016-2018. She is a 2009 graduate of Colorado State University School of Veterinary Medicine. She has a special interest and love for surgery. She is employed by the Wellington Veterinary Hospital in Wellington, CO.
Dr. Stone often treats many of the animals at W.O.L.F. She has done routine medical examinations and assisted Dr. Bright on complex surgeries for W.O.L.F. animals. She has also performed annual field examinations at the Sanctuary. In a recent W.O.L.F. Magazine article Dr. Stone expressed her feelings about W.O.L.F.: "I think W.O.L.F. is extraordinary. The things they do for these animals, the sacrifices they make – I admire each and every one of the people involved. Their dedication to this cause is inspiring and it makes me even more excited to be a part of this team."
Events Coordinator & Volunteer
Receipts Manager, Events Assistant, & Volunteer
Bloomerang Manager & Volunteer