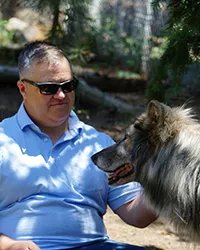 Jeff Bauer
Jeff Bauer joined the W.O.L.F. Board of Directors in 2018.  He has been a financial advisor with AIG VALIC in Ft. Collins for over 20 years.  Jeff has a B.S. degree in Natural Resource Management with a concentration in Conservation Biology.  He has been an animal advocate for many years, helping to drive dogs who are on the euthanasia list in Texas, New Mexico and Oklahoma to safety.  His two teenage sons often accompany him on his rescue trips for Found Nation Animal Rescue.  Jeff is a former youth rugby and soccer coach and his hobbies include rock climbing, mountaineering, cooking and supporting other rescue friends in their endeavors.  Jeff and his wife Jennifer live in Ft. Collins with their two sons.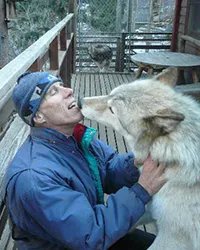 Dr. Ron Bright
Dr. Bright has been a member of the W.O.L.F. Board of Directors since 2014. He has been a veterinary surgeon for many of W.O.L.F.'s animals since 2004. In 2013 he helped initiate an annual field examination program for each animal at the Sanctuary.
Dr. Bright graduated from Ohio State University College of Veterinary Medicine and specialized in small animal surgery. He served as a member of the Board of Regents and President of the American College of Veterinary Surgeons. Dr. Bright was a professor at several prestigious universities over the years, including Purdue, University of Florida and the University of Tennessee. He has published over 150 articles, more than 27 chapters in 10 veterinary textbooks, and has given over 150 lectures both nationally and internationally.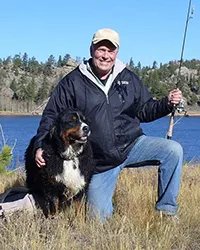 Fred Johnston
Fred Johnston is the Chairperson of the W.O.L.F. Board of Directors.  He joined the W.O.L.F. Board of Directors in 2018.  He has degrees from Colorado State University in Psychology and Animal Science.  From 1975 to 1998 Fred was a successful restaurateur in Longmont, Ft. Collins and Boulder.  He managed hundreds of employees and worked cooperatively with countless governmental regulatory agencies.  In 2002, Fred and his wife formed Summit Real Estate and Marketing.  They developed and sold subdivisions in Weld and Boulder counties. They has been active in the Red Feather Lakes community since 1976, and they opened a Summit office in RFL in 2010. Fred's deep contacts and excellent reputation n the Red Feather Lakes community will help W.O.L.F. make the transition to our new home in the RFL area. Fred is the Guardian Angel for W.O.L.F.'s beloved Nashoba.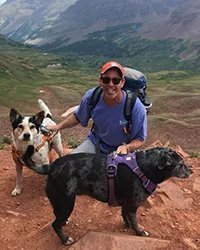 Peter J. Dauster
Pete Dauster joined the W.O.L.F. Board of Directors in 2018.   He has been practicing law in Fort Collins, Colorado since 2007 with a broad based civil practice. Prior to moving to Fort Collins, Pete practiced law in Memphis and Jackson, Tennessee. Pete is also licensed to practice law in Wyoming.
Pete graduated from Clemson University with a B.A. in Administrative Management in 1985 and the Cecil C. Humphreys School of Law at Memphis State University in 1989.  In 2011 Pete completed the 40-Hour Mediation Training course through the Colorado Bar Association.
Pete is a member of the Larimer County Bar Association, where he is a former member of the executive board and the former President (2016-17).  He is also a member of the Colorado and Wyoming Bar Associations.
Pete's community service has included serving as legal counsel and former Board member (2010-2013) of Animal House, a Fort Collins no-kill dog rescue shelter.  He currently a volunteer mediator for the City of Fort Collins' community mediation program. Pete is the Guardian Angel for W.O.L.F.'s beautiful wolf dog Nysa.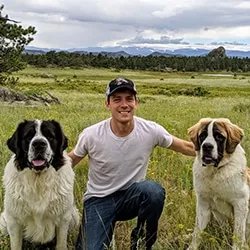 Christopher  Johnston
Chris joined the W.O.L.F Board of Directors in 2019. He graduated from Colorado State University in 2013 with a B.S. in Business Administration focused in Finance & Real Estate, as well as a B.A. in Economics. During school Chris held positions with the Denver Broncos as well as the U.S. Fish and Wildlife Service Mountain Prairie Region. After graduation Chris worked in a non-profit center involved in education & outreach as the Assistant Director-Interim Director of the Everitt Real Estate Center at Colorado State University for five years. Chris will graduate with his Master of Business Administration in May of 2020.
Recently transitioning, Chris now works as a Market Analyst and Commercial Marketing Manager for LC Real Estate Group in Loveland whose mission is to "Mindfully Create Community". In his free time Chris enjoys spending time with his two Saint Bernards (Champ & Percy), being in the outdoors. He enjoys running, hiking, kayaking, scuba diving, snowboarding, & fly fishing, and obtained his private pilot certificate several years ago. Chris is very excited to be a part of supporting the W.O.L.F. mission!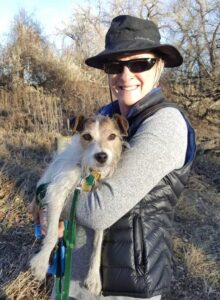 Audrey Nelson
Audrey Nelson, PhD., is an international trainer, key-note speaker, author, and consultant who helps organizations increase productivity and profitability through winning communication strategies. She specializes in gender communication, unconscious bias, inclusion, conflict management, generational and interpersonal communication skills. She holds a B.A., M.A., and Ph.D. in Communication with Post Doctorate work at Warnbrough College, Oxford, U.K. Audrey is a published author. Audrey is the gender communication blogger for Psychology Today.
About ten years ago, Audrey read The Killing of Wolf Number Ten. It was a disturbing account of the illegal killing of a remarkable wolf. She made a promise when she retired to get involved with the saving and preservation of these keystone species. Becoming a board member of W.O.L.F. is the actualization of this goal. Her menagerie of animals has included horses, a donkey, 5 dogs at one time, and cats.