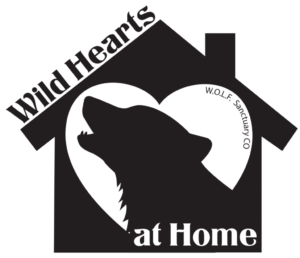 We have the land – now help us build our dream home for the Wolves AND for Our Supporters
Please help the W.O.L.F. Sanctuary to raise the $3.8M that is needed to ensure the property purchase, renovations/construction requirements, relocation expenses, and a reserve fund are secured and our resident wolves and wolf-dogs can be relocated to their new forever home.Help us reach our goal for improvements to current buildings, including an on-site vet room and infirmary!
W.O.L.F.'s current location, home to the Sanctuary for the past 27 years, is no longer suitable for our organization's needs in a number of ways. The costly devastation of the 2012 High Park Fire and the ongoing threat of flooding incidents resulting from the fire's effect make the land unsuitable for our operations. Adding to these issues is the low limit on the number of animals we can care for at this property, along with restrictions on being open to the public for educational programs and public tours.
WE HAVE FINALLY FOUND A PLACE THAT IS AN IDEAL MATCH FOR W.O.L.F.!
The location is northwest of our current property but with easy access and still within quick driving distance of Fort Collins. Pending County approval on certain points, this property will allow us to:
Have State-of-the-Art habitats for each wolf pair
Enable us to provide tours to the general public that will be conducted in the most respectful and non-stressful manner for the wolves
Allow schoolchildren to come for educational programs, a major part of W.O.L.F.'s mission
Have a significant buffer from neighboring homes, along with backing to 80 acres of National Forest land
Have on-grid utilities at less cost and at more efficiency than at our current off-the-grid facility
Have much needed on-site veterinary infrastructure for our rescued animals
And allow us to finally meet so many of you, our wonderful supporters, in person!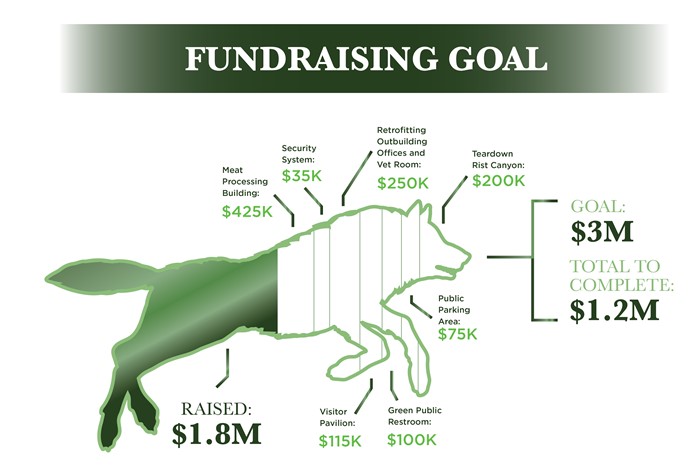 Thanks to over 900 donors from around the globe, W.O.L.F. purchased the property in April of 2016. In late December of 2019, we officially began to carve out the entry path from the main road into the property with the use of a contractor and their specialized machinery. We are actively continuing with site improvements in preparation to bring the 30 wolves and wolf-dogs in our care to their new forever home. Additional costs that have and will occur between now and our move anticipated in 2021 include:
Engineering studies and designs to ensure full compliance with County requirements;
Building larger enclosures (fencing is expensive, and we cannot reuse our current fencing except in some areas for dig guard fencing)
Improvements to current buildings, including remodeling for an on-site vet room for routine exams and procedures and an infirmary
Putting in parking areas
Building a restroom facility for visitors
To make this move, WE NEED YOUR HELP! Join us to ensure a bright future for the wolves promised to our care — please consider making a donation TODAY to our Wild Hearts at Home capital campaign. THANK YOU FOR YOUR SUPPORT!