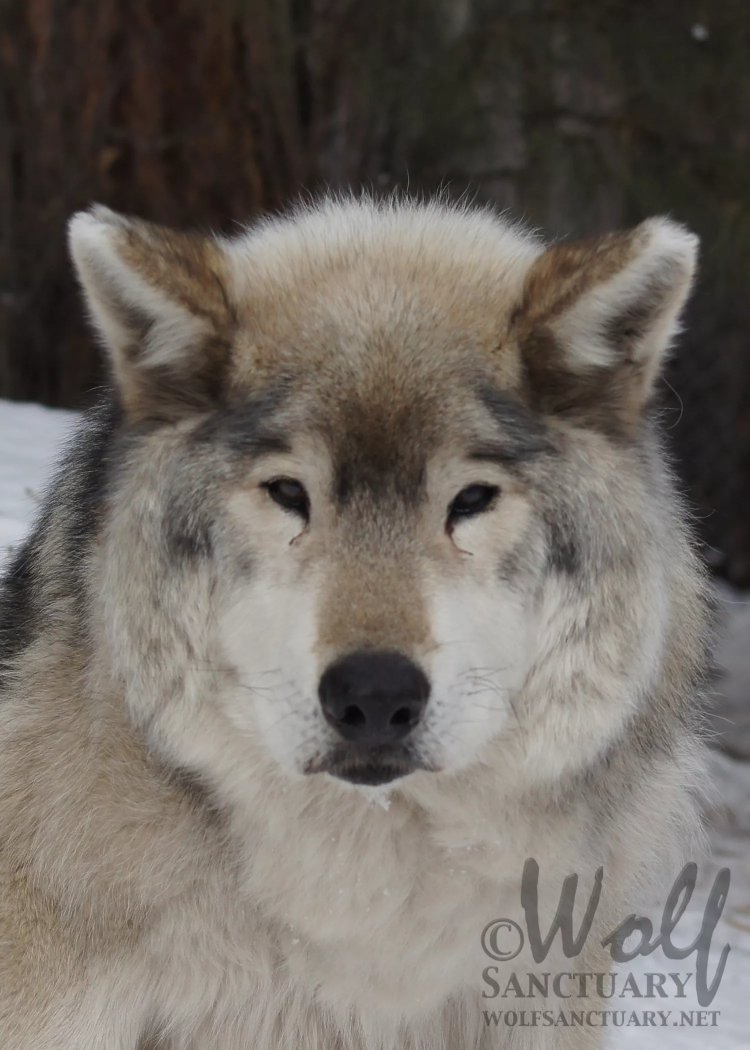 Male
Born: October 3, 1998
Rescued From: Wisconsin
Given Sanctuary: June 1, 2006
Returned to Spirit: June 18, 2013
Webster was one of eighteen wolf dogs rescued in 2006 from a horrendous backyard breeding operation in Wisconsin. The owner of the operation had died unexpectedly leaving the animals living on chains with no food or water. W.O.L.F. received a call from the Humane Society asking if we could take the animals, and the Wide Awake Rescue began. Unfortunately, even the rescue would turn out to be a horrible experience for the animals. We had been told that they would be transported in an air-conditioned trailer and that a vet tech would accompany them in the event of an emergency. Instead, the animals were packed into a horse trailer so tightly that not even water could be given to them.
Webster was paired with Menemith after his arrival at the Sanctuary. The two were great together, enjoyed the freedom of movement their large enclosure allowed, and made progress on their road to emotional and physical recovery.
Unfortunately, Menemith passed away in August of 2008 due to complications from her spay. Webster was left heartbroken and alone. We respected his grieving period for a few weeks, and then decided to pair him with Isis, the female in an adjoining enclosure. The move went better than anticipated, and the two became immediate buds. It was wonderful to see Webster running around the enclosure, playing, and fence fighting again. He became curious about people. Some he actually barked at, defending his territory, a very healthy behavior. He was a totally different animal from the fearful boy he was when rescued.
In early 2010, Isis was diagnosed with advanced stage mammary cancer from having spent so many years at the breeder's facility. Keeping her comfortable until she was ready to pass required that she be caught up once a day and pilled with her medications. Unfortunately, this was not only traumatic for her, but Webster as well, and he began to avoid people when they would enter his enclosure. In July of 2010, Isis passed away, once again leaving Webster companionless. We rescued a five-year-old female named Sasha and made all the arrangements to have her driven to the Sanctuary from Oklahoma. We were told she was aggressive with food and human attention, but we figured she would get along fine with Webster who was shy of people and had a submissive personality. We were wrong.
When Sasha entered the enclosure, Webster immediately became interested in the new arrival. Unfortunately, the moment Sasha saw Webster she attacked. The fight was broken up, and it was decided to see if they would get along better if people left the enclosure. After three more attacks by Sasha, we knew it was never going to work. Sasha was removed, and we again went about looking for a companion for Webster.
Another older female was located at a facility in North Carolina and was in desperate need of a home. Although she too was aggressive over human attention, her story was one we couldn't say no to and decided to bring her in for Webster. Renata arrived in August of 2010 and once she was given a clean bill of health, it was time for the introduction. With fingers crossed we walked her into Webster's enclosure. With Renata, Webster was much more cautious and waited until staff had left before approaching. At first, both Webster and Renata seemed more content to share the space but go their separate ways and they were rarely seen together. But after a slow start, their relationship blossomed and they were seen walking and playing together with more frequency.
During the High Park Fire evacuation, we began to catch a glimpse of Webster's more confident, playful side. Playing with toys and other objects, Webster was soon joining Renata for walks with an enthusiasm that no one expected from an unsocial animal or one with the severe arthritis Webster had. Eventually he was even coming up to some of his caretakers for scratches or leading them on a merry chase when trying to get him his medications. Webster was helped to pass on June 18th with Renata by his side at the VCA veterinary hospital after being diagnosed with advanced stage heart cancer.