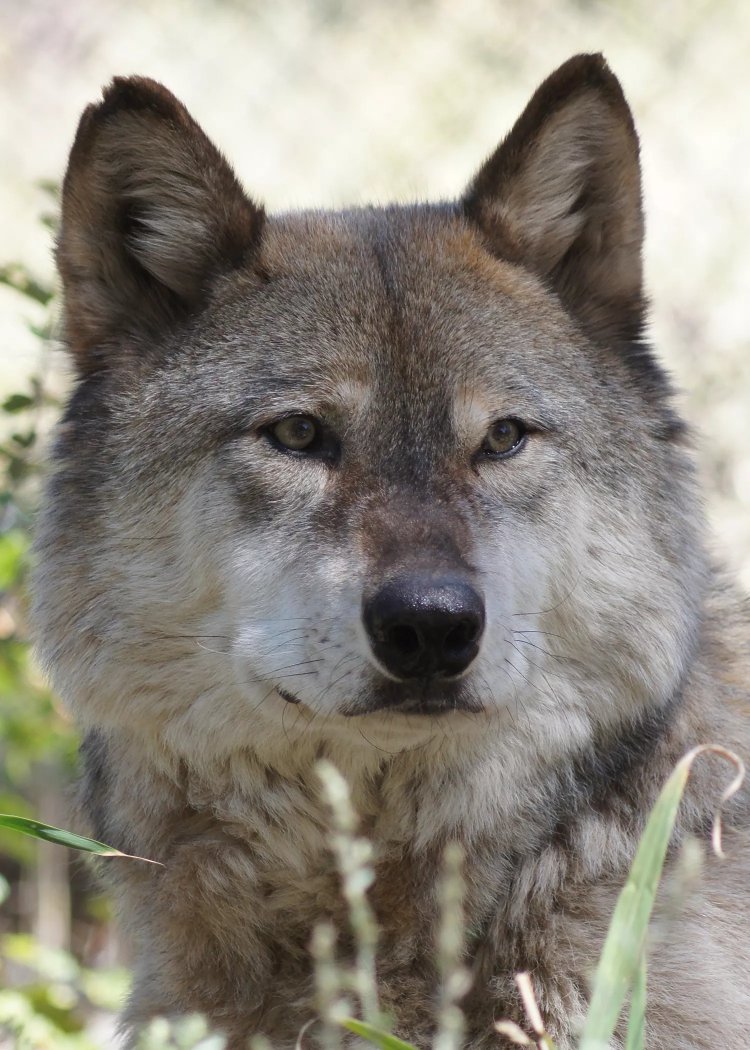 Male
Born: April 28, 2008
Rescued From: Alaska
Given Sanctuary: September 5, 2013
Returned to Spirit: November 27, 2016
Thor's life began at a road-side zoo and breeding attraction in Alaska. As one of over 40 animals, Thor lived on an eight-foot chain tied to a pole and on display for anyone who wanted to stop to see the "kissing wolves of Alaska." Unlike many of the animals bred there, Thor was never purchased to be taken home as a souvenir pet, and he remained tied to his little circle of dirt until the operation was shut down by authorities in December 2011. Thor and all the wolves at the site were sent to Lockwood ARC, a rescue in California, to await permanent placement at other rescues and sanctuaries around the country.
In 2013, W.O.L.F. contacted Lockwood about accepting one of their animals as companion for Ariel, and they recommended Thor. During his stay at Lockwood, Thor was observed as somewhat timid with people, non-confrontational with other animals, and gentle with his very shy female companion Samantha. Samantha was going to be transferred to Wolf Haven International and Thor was going to be alone. After reviewing his information, he seemed like a perfect match for Ariel.
When Thor arrived, he quickly became a favorite among staff and volunteers. Energetic and playful, Thor was always looking for ways to engage with his caretakers and found that nipping at their thighs and buttocks was a great way to get a reaction out of them. Often this would lead to him getting what became to be known as "the zoomies." He would take off racing around the enclosure at top speed, running straight at his caretakers only to veer off at the last second in a different direction. He loved to be scratched and would often rub against his caretaker's back or legs before rolling over onto his back for a belly rub.
In September of 2015, Thor was diagnosed with thyroid cancer and had the tumor removed. He recovered quickly and was back to normal within days of surgery. Thor gave no indication that anything else was wrong until November of 2016 when he suddenly became lethargic and uninterested in his caretakers. He was rushed to the vet where it was discovered that, despite the clean margins when the thyroid tumor was removed, the cancer had spread into his lungs and kidney. At this stage there was nothing we could do beyond making him comfortable and observing him for quality of life.
Devastated by this shocking revelation, Thor was brought back to the Sanctuary so he could be with Ariel until it was time to help him pass. Thor seemed to perk up for a few weeks, giving everyone who loved him a chance to say goodbye. On November 28 the decision was finally made to help him pass at the age of nine. Though we feel he was taken from us much too early, Thor lived life to the fullest and seemed to enjoy every minute of it. We take comfort knowing that his spirit lives on and memories of him still bring us laughter and joy.