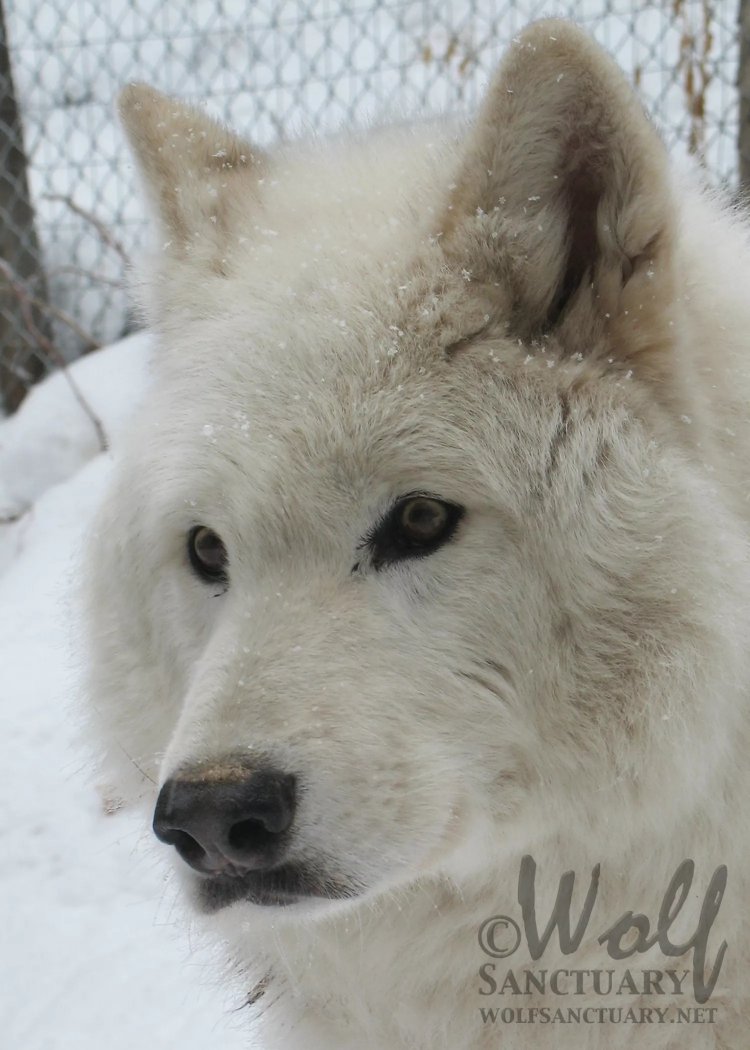 Male
Born: May 1997
Rescued From: Colorado
Given Sanctuary: January 3, 1998
Returned to Spirit: February 23, 2010
The cofounders of W.O.L.F. were away on an emergency in Wisconsin, leaving the rescue in the care of one of the Sanctuary's capable volunteers, when they received a call from the volunteer about an animal needing help. A couple in the Denver area had a seven-month-old wolf dog that they needed to place as they were moving to Texas and didn't want to take him with them. The volunteer wanted to know what to do, should he take the pup or not? The Wendlands told him to make the arrangements and bring Sky to W.O.L.F. A few days later, the Wendlands got another call. The volunteer told them that the owners had called and said they did not have enough time to bring the pup to W.O.L.F., so they were going to have him euthanized. If W.O.L.F. wanted Sky, arrangements would have to be made to pick him up, so the volunteer made the trip to Denver to bring Sky to the Sanctuary.
On January 3, 1998, Sky arrived at W.O.L.F., still a pup. You could already see what a magnificent adult Sky would be. He was pure white with beautiful yellow eyes, but he was very shy of people as most wolves are. Sky was placed in an enclosure with Ahzeem, and they bonded very well. Although Ahzeem was significantly smaller than Sky, Ahzeem was the dominant animal from the start. Periodically, Ahzeem would demonstrate his position by pinning Sky, but he never caused any injuries. The animals liked to play a game called "chase me, chase you" which consisted of taking turns chasing each other at high rates of speed over the entire enclosure.
Sky spent most of his years at W.O.L.F. in a pack of three with Nugget and Ahzeem. Although he was much larger than the other two animals, he happily accepted his role in the pack as the omega, the lowest ranking wolf in the group. Sky was always one of the more timid wolves at the Sanctuary. It took a great deal of time and patience to earn his trust, but once you did, he was an absolute sweetheart.
Like each of the animals at W.O.L.F., Sky had his personality quirks. He had a disdain for gloves, and if you were wearing them near him, he would remove them from you. Once he decided you were appropriate for giving him attention, he would let you know with his massive foot, often down the middle of your back.
Nugget and Ahzeem were both older than Sky, and passed away before him. Sky was placed with Isabeau after Shaman's passing and for the first time, Sky became an alpha. To this day, Sky was the only individual, with two legs or four, who Isabeau has showed full respect. We don't know quite how he did it, but we were happy that Sky spent his last months as the boss
In the early morning hours of February 23rd, 2010, a month shy of his 13th birthday, Sky passed away. His passing came as a huge shock to us all, as he was active and appeared to be in perfect health the day before. We believe Sky passed from a heart attack or stroke.