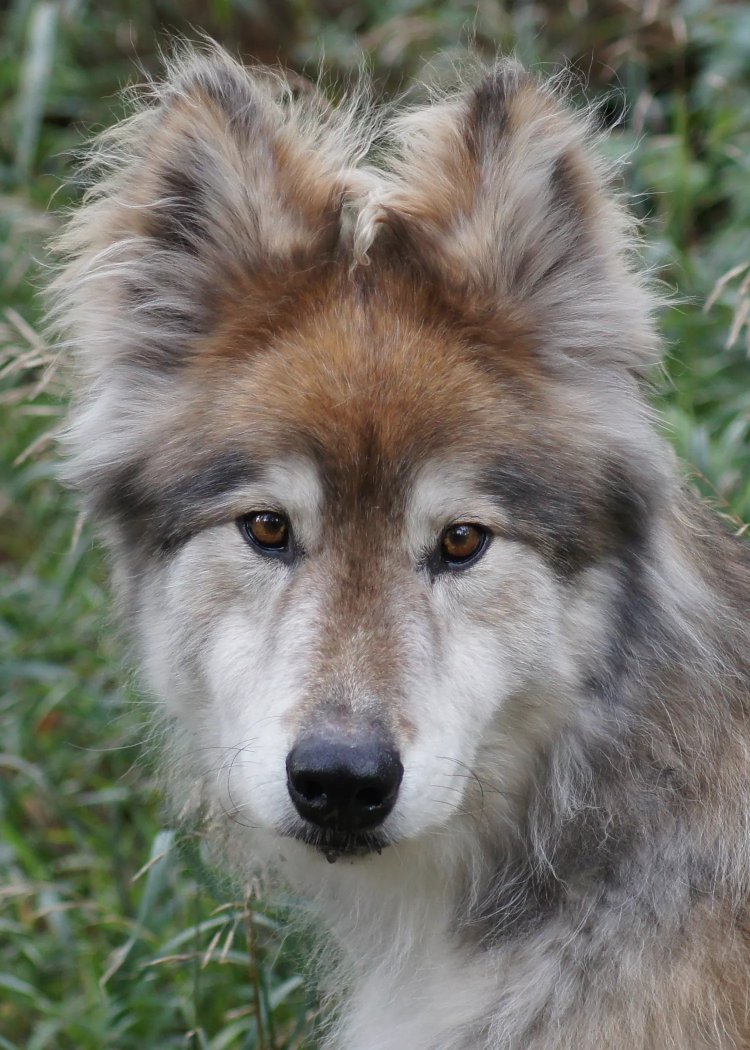 Male
Born: August 18, 2005
Rescued From: California
Given Sanctuary: February 21, 2008
Returned to Spirit: May 29, 2017
A supporter with Big Dog Rescue in the Bay Area of California called W.O.L.F. in December, 2007. They had a wolf-dog, Sigmund, in need of sanctuary. Sigmund was originally adopted to people living in San Francisco. He quickly escaped from his ill-fitting urban home. Sigmund's owner never claimed him most likely because he realized that he was never going to be able to contain this determined escape artist. Sigmund was adopted out a second time to a woman who handed him over into yet another inappropriate setting from which he escaped again. From that point on, he was spotted numerous times in the Santa Cruz mountain area until he was finally caught and turned over to Big Dog Rescue.
W.O.L.F. rescued Sigmund on February 21, 2008. He was initially introduced to Isabeau and an Artic wolf named Shaman. Unfortunately, things did not go well between the three animals as Shaman and Sigmund fought for the position of alpha male. Tunyan, a Mackenzie Valley female wolf had recently lost her companion, and it was decided to try pairing her with Sigmund. At first, the two animals ignored each other, but once the humans left the area, the play was on. Sigmund even flipped Tunyan onto her back a few times, despite being outweighed by at least fifty pounds. Hopes of making Sigmund an ambassador animal were crushed when Sigmund made it clear that he was not interested in getting in a vehicle. However, at the Sanctuary, Sigmund was the perfect ambassador and warmly welcomed attention from visitors.
When Tunyan passed away quite suddenly, Sigmund was bereft. He grieved for his special companion and often sprawled in a den that Tunyan dug. When it was time, he was paired with another female named Renata. Unfortunately, Renata suffered from a seizure disorder and when she passed, Sigmund was once again alone. He lived for a time with Tundra, a younger and more energetic female. When Spartacus and Trigger joined the pack, it was time for Sigmund to move to keep company with Pride who had recently lost her longtime companion Lance, as well as one of her legs due to cancer.
Sigmund and Pride were like two roommates. They were totally comfortable with each other, and they coexisted side-by-side but did not form a strong bond. When Pride passed in late 2016, Sigmund was placed with Ariel who also had recently lost her companion Thor.
Sigmund was happy in his new enclosure which was near the center of the Sanctuary. He was always at the bottom of his enclosure to greet staff, volunteers, and visitors when they arrived. Ariel was quite shy and liked to spend her days near the top of her mountain home. Sigmund visited with her and watched out for her, but he preferred to hang out at the bottom of the enclosure so he didn't miss any of the human comings and goings and he was always ready to sound the alert when it was time to eat.
He was eventually diagnosed with degenerative myelopathy, a condition where the nerves begin to die. Sadly there is no way to cure or stop the degeneration, so we helped make him comfortable with appropriate treatment. And although Sigmund's mobility steadily declined, he remained happy and engaged in life until the end.
On May 26, Sigmund suddenly lost his ability to walk without assistance. Because he was still engaged with life, it was decided to give him intensive pain medication in the hope that he had simply overexerted himself and needed a little time to recover. Unfortunately, Sigmund never recovered his ability to walk unaided, and W.O.L.F. made the decision to help him pass on May 29.
Sigmund was a beautiful wolf, and our wish for more time with him was not granted. However, we take heart that Sigmund is able to play with Tunyan once again. Sigmund was 11.5 years old.