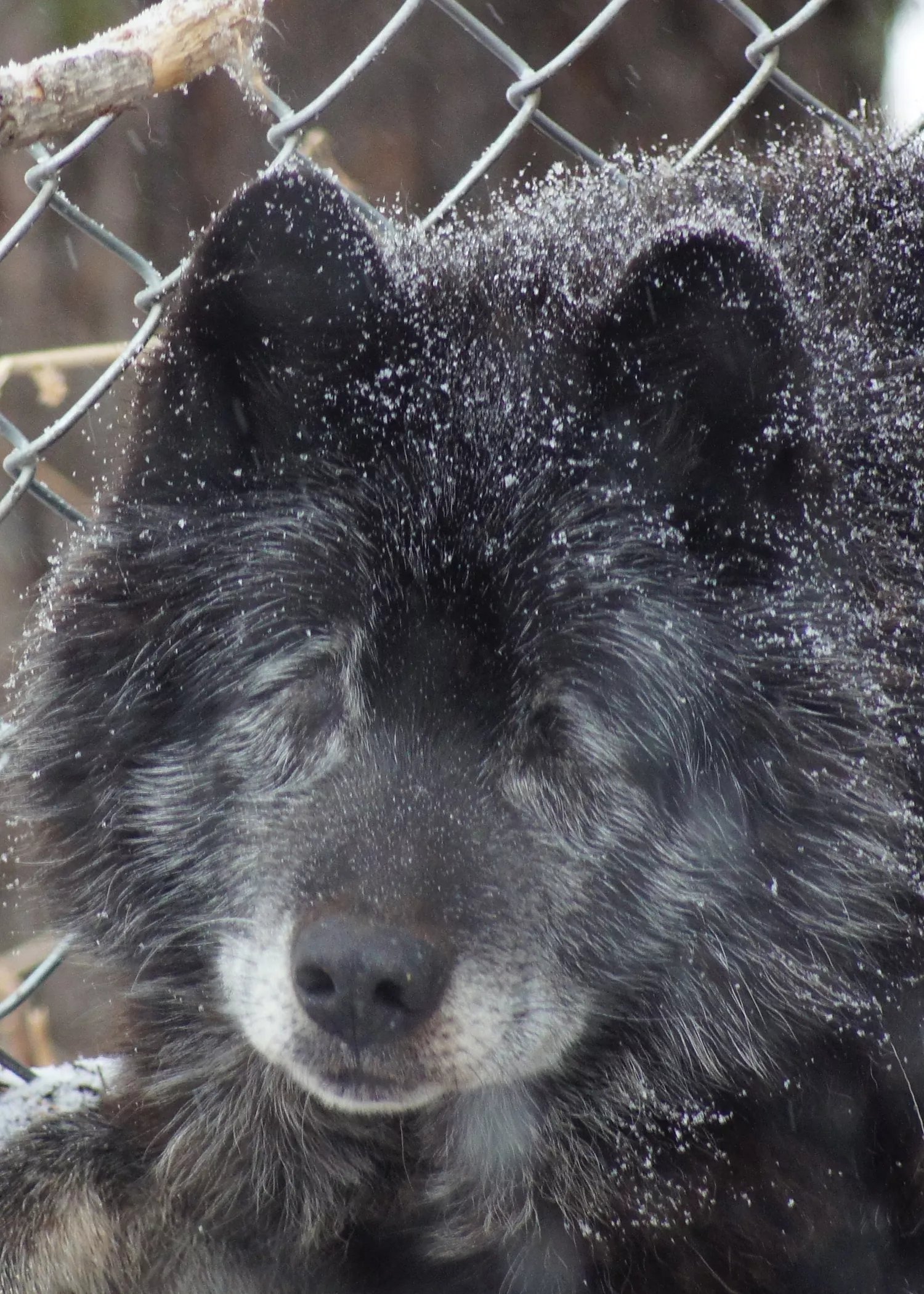 Male
Born: September 20, 1992
Rescued From: Wisconsin
Given Sanctuary: June 1, 2006
Returned to Spirit: November 26, 2013
No one knew how long he had been blind. That information went with his previous owner when she died unexpectedly in May of 2006. Mucqua was not alone. There were twenty one additional wolf dogs living on chains in intolerable conditions. No one, it seems, realized that their owner was seriously ill. As the days passed, the water ran out and there was no food.
W.O.L.F. received a call from the AHS asking if we could take the wolf dogs, and with our yes the Wide Awake Rescue began. Mucqua was one of eighteen animals to make the trip to Colorado from Minnesota. Mucqua was one of the most terrified of all the wolf dogs that arrived at the Sanctuary. We understood why when a Sanctuary volunteer found a photo of him on the internet. The photo showed two men holding Mucqua several feet up in the air suspended by a noose around his neck and his tail. We had been told that the animals would be transported in an air-conditioned trailer, and that a veterinary technician would accompany the animals to care for them in the event of an emergency. However, none of this occurred. The animals arrived jammed into a horse trailer so tightly that even water could not be given to them.
Mucqua, weighing only 38 pounds, was paired with Gead, and they proved to be wonderful companions for each other. Unfortunately, Mucqua's eyesight could not be restored due to a retinal disease, and eventually his eyes had to be removed due to glaucoma. Gead passed away in November 2007, and after giving Mucqua time to grieve, he was moved into an enclosure with a new lady, Isis. They did alright together, but it was apparent that they were not connecting. Eventually, Isis was moved into the adjoining enclosure with another male and Mucqua was introduced to Kasota.
Mucqua and Kasota enjoyed their space and company immensely. Mucqua moved around very well despite his blindness and was even seen chasing and playing with Kasota. In September of 2009 another animal, Hammer, was introduced into their group. All three of them got along famously, and thanks to the dedicated efforts of volunteers, they started to get comfortable interacting with humans.
Hammer passed away in 2011, and with Mucqua's advanced age and weak condition, we decided to move him to an enclosure closer to the cabin. Mucqua was introduced to a new elderly companion named Atlantis. They got along well until Atlantis died shortly after the High Park Fire in 2012.
In October 2012, we decided to move Mucqua to a heated outbuilding at the director's house where he could spend the rest of his life in comfort. The first two weeks, he shivered and urinated on himself, frightened of his surroundings and the people who were trying to help him. We began to question if we had made the right decision. The director decided to introduce Mucqua to her dogs. Immediately Mucqua began to relax and his confidence began to flourish.
Mucqua lived for thirteen more months, becoming stronger as his coat became thicker and glistening with the massages, grooming sessions, and hand feeding that he enjoyed. Eventually, though, he began to weaken and became unable to get to his feet. At the august age of twenty-one, Mucqua passed from this world.